After Alia Bhatt, Shraddha Kapoor and Tiger Shroff, Athiya Shetty is the latest newcomer in Tinsel Town. Daughter of Sunil Shetty, she makes her debut alongside Aditya Pancholi's son Suraj Pancholi in the remake of Hero. The duo is being launched by Salman Khan. This pretty young lady is already winning hearts with her jaw dropping looks and elegant sense of style. Being the daughter of one of Bollywood's most loved action heroes, there are high hopes pinned on her when it comes to acting skills. We found out some more about her.
Sponsored link
Early life and family
Athiya was born to Sunil Shetty and his beautiful wife Mana Shetty on 5th November, 1992. She has a younger brother Ahaan Shetty. Sunil Shetty is a popular Bollywood hero who starred in numerous action movies like Balwaan (1992), Dilwale (1994), Anth (1994), Mohra (1994), Gopi Kishan (1994), Krishna(1996), Rakshak (1996), Border (1997), Bhai (1997), Hera Pheri (2000), Dhadkan (2000).
Athiya's mother Manna Shetty is creative director at R House Furnishing Solutions and S2 Reality Developers Private Ltd. Although a star kid, she was never too fond of partying and restricted her circles to a handful of friends and her family members. Athiya is so close to her family that even after completing the age of twenty two, she prefers to celebrate her birthday with them instead of going out to parties. After completing her schooling and college, Athiya realized that acting was her true calling and that she wanted to follow her father's footsteps. Athiya has inherited not only acting genes but also stunning looks from her parents resembles her mother in appearance. She is five feet eight inches tall and weighs fifty four kilos. She underwent a rigorous exercising routine to the extra pounds and get into the perfect frame and shape for her debut movie.
Athiya Shetty – Childhood Pictures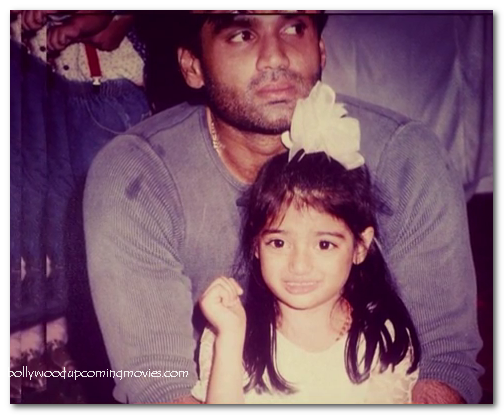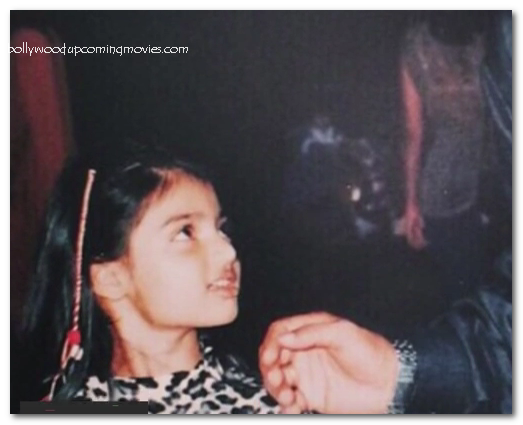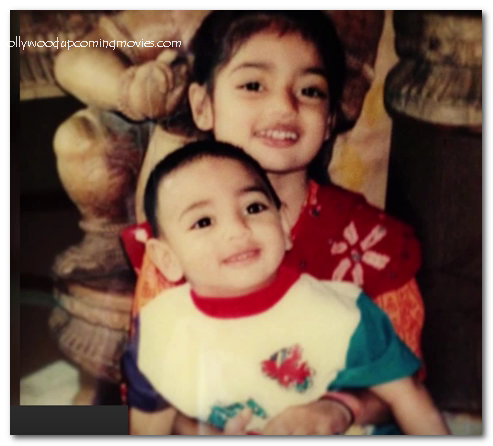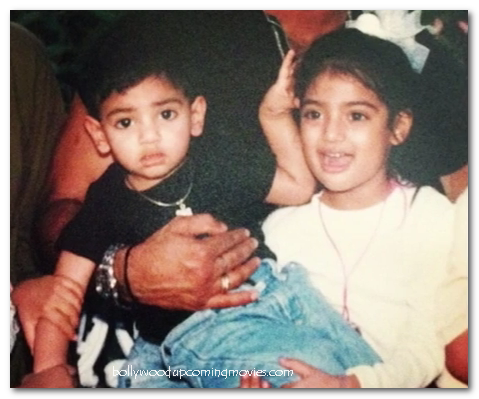 Career
When she told her parents about her intentions to pursue a career in acting, they were both very supportive of her decision. However her father was slightly apprehensive about her being able to cope with the demands of the industry. She was then sent to one of the most prestigious and renowned film making and liberal arts colleges in the world, New York Film Academy. She studied there for two years. Besides acting, she also trained at Remo D'Souza's dance academy.
Sponsored link
After returning to India, she got cast in the remake of Subhash Ghai's hit film Hero which starred Jackie Shroff and Meenakshi Sheshadri. The remake is being directed by Nikhil Advani and stars Aaditya Pancholi's son Suraj Pancholi in the lead role. This movie has been produced by Salman Khan's own production house, Salman Khan Productions and Salman khan has also lent his voice as a playback singer in one of the songs of the movie. Surely Athiya is fortunate to have such a dream debut in Bollywood. She has appeared for several promotional events of the movie and has also walked the ramp in order to add to promotional efforts.
Hero
This movie has garnered a lot of hype as Salman Khan himself introduces Athiya and Suraj in the movie. The launch of the official trailer was an emotional moment as Suraj, Salman and Sunil broke down. Athiya was seen smiling and looking gorgeous in an electric blue dress. She said that she could not thank Salman enough for giving her the perfect launching platform. Suraj Pancholi, who was involved in the controversy regarding the suicide of his former girlfriend Jia Khan has found a way to leave behind the past and progress in his career.
Athiya Shetty – Boyfriend
Hardly any information has been disclosed about the personal life of Athiya Shetty, contrary to her costar Suraj whose personal life was all over the media as he was arrested for abetting the suicide of his ex-girlfriend and movie actress Jiah Khan. She reportedly is not dating anyone currently and her entire focus is on her acting career as being the daughter of such an acclaimed actor, the genes run in her family and skills gained from one of the finest acting institutes in the world leads to huge expectations from her in terms of acting capability. She says her parents have given her the freedom to choose her life partner as theirs was a love marriage too. But she has kept that for much later in life, probably somewhere in the late twenties or early thirties.
Controversies
The 5 feet 9 inch tall Athiya Shetty has kept herself away from all sorts of controversies at this early stage in her career. Contrary to Suraj Pancholi, whose parents Aditya Pancholi and Zarina Wahab had a troubled marriage, she had a happy childhood and a peaceful upbringing. She bears a cheerful disposition at public events and her responses to the media at press conferences and promotional events are sensible and non-controversial.
Athiya Shetty – Pictures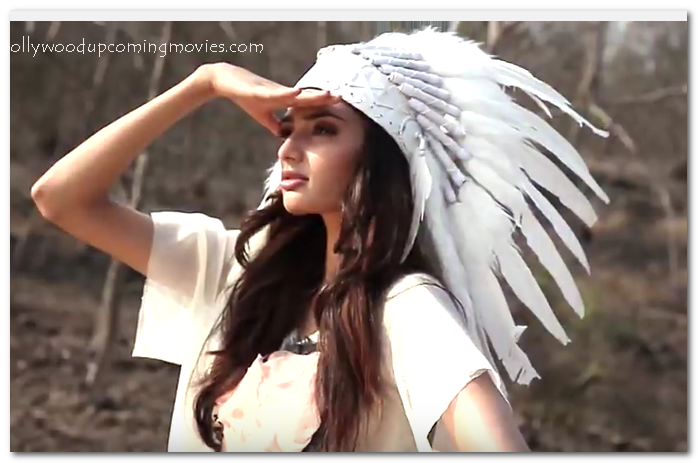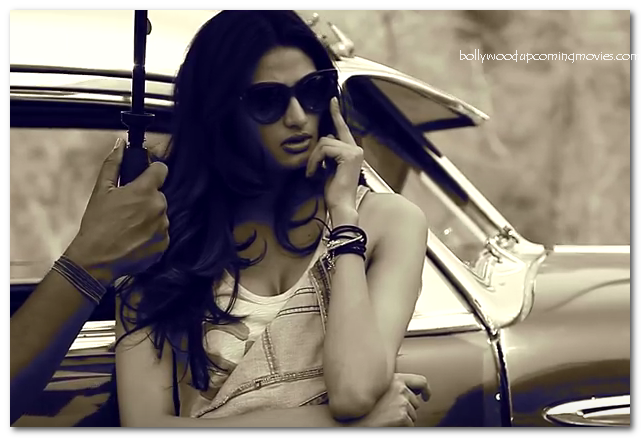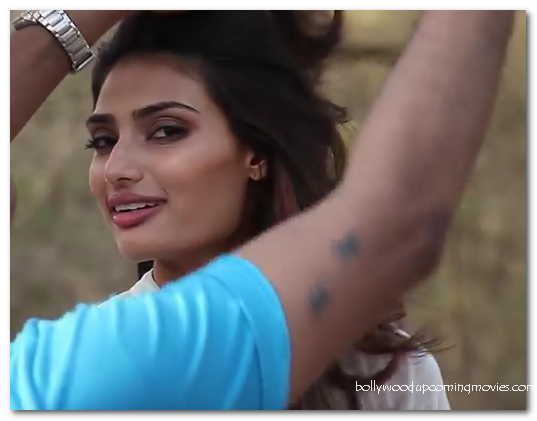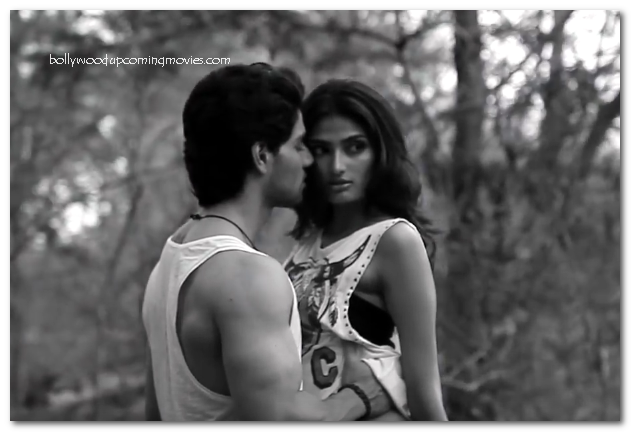 Sponsored link