Divyanka Tripathi is an actress who primarily works in the Indian TV industry. She is known for her role as Dr. Ishita Raman Bhalla in the daily soap 'Ye Hai Mohabbatein' which is telecast on Star Plus TV. The show as well as the lead characters has met with critical acclaim and have won many awards.
Sponsored link
Tripathi is also involved in varied social activities and participated in many episodes of 'Comedy Circus.' She was most successful at Comedy Circus in the seasons when she was paired with Anoop Soni and RJ Mantra.
Early Life and Family Background
Divyanka was born in Bhopal on 14th December 1984 to Narendra Tripathi, a pharmacist and Neelam Tripathi. She also has an elder sister called Priyanka. She finished her schooling and college education from Bhopal.
Tripathi wanted to be an army officer. She has finished a Rifle shooting course from the well-known Bhopal Rifle Academy as well as a mountaineering course from Uttarkashi's Nehru Institute of Mountaineering. She is the executive officer at Bhopal's rifle shooting academy and holds a gold medal in the sport of rifle shooting.
Career and Success Story
Divyanka began her career as a model. She worked at Akashwani Bhopal as an anchor for some time before trying her hand at acting.
In 2003, she took part in the Pantene Zee Teen Queen contest and was awarded the title of Miss Beautiful Skin. In 2004, she took part in the popular talent hunt show called Zee Cinestar Ki Khoj, which airs on Zee TV and was declared the winner from the Bhopal zone. In 2005, she participated in the Miss Bhopal contest and was crowned as Miss Bhopal.
Divyanka's acting debut occurred with telefilms made by Doordarshan. She became a recognizable face after portraying the dual roles of Divya, an educated and modern girl and Vidya, an illiterate orphan girl, in the fiction drama 'Banoo Main Teri Dulhann' aired on Zee TV.She won several awards for her acting in the serial, including Fresh New FaceIndian Telly Award and the Best Actress award in Drama Category by the Indian Television Academy.
Tripathi also worked in the 2nd season of 'Ssshhhh…Phir Koi Hai' a horror thriller telecast in Star Plus. Subsequently, she went on to act as a housewife 'Rashmi Sharma' in the comedy series 'Mrs. & Mr. Sharma Allahabadwale' telecast on SAB TV.Tripathi ventured into films after landing the role of the female lead 'Rani Padmavathi' in the movie 'Lala Hardaul.' The film was based on a folklore famous in Bundelkhand, Madhya Pradesh.
In March 2011, she was appointed as the Ambassador of 'CyberDodo the Defender of Life' a non-commercial worldwide initiative for protection of the "Rights of the Child and the Environment."Tripathi was awarded the esteemed Shan-E-Bhopal Award in 2015.
Yeh Hai Mohabbatein
In 2013, Divyanka started playing the role of the very popular TV character, Dr. Ishita Bhalla, an infertile yet loving and sweet dentist, woe gets married to CEO Raman Bhalla, portrayed by actor Karan Patel, so as to offer maternal care and affection to his daughter.The TV drama is based in the eponymous novel by author Manju Kapoor.
The on-screen chemistry of Divyanka with Ruhi akaRuhanika Dhawan has been appreciated and loved by the audiences. Viewers have also liked the amazing on-screen chemistry and the minor fights and disagreements between the two lead characters, i.e., Karan/Raman and Divyanka/Ishita.
Tripathi has stated that her co-star is a sweetheart and they never have any kind of clashes between them. The two of them are kind of opposites, wherein Divyanka likes to talk less while Karan likes to talk a lot and do a lot of horsing around and 'masti.' The rapport is thus maintained due to her listening nature and his talkative personality.Divyanka considers Karan to be a good actor and both co-stars have mutual respect for each other. This according to her, plays a major role in the wondrous chemistry that is evident between the two on the screen.
Divyanka has won many awards as well as many nominations for her role in the TV series, including the "Indian Telly Award for Best Actress in a Lead Role", the "Boroplus Gold Award for Best Actress in a Lead Role", and the "Lions Gold Award for Best Actress in Lead Role." Also, the couple bagged awards like "International Jodi", "Favourite Jodi", and "Naya Sadasya" awards at the 2014 Star Parivaar Awards.
Divyank Tripathi – Boyfriend
Divyanka has claimed that she had three serious relationships, the last one was with actor Ssharad Malhotra. Though Divyanka was looking forwards for marriage, the couple broke off after nine years. Not much is known about the causes of the break up other than a prepared statement that was released by the former couple.
Divyank Tripathi – Affair and Marriage
There is news that she is in a relationship with co-actor Vivek Dahiya who plays ACP Abhishek in the show. According to a source, they became close friends and were seen spending quality time in isolated places. Divyanka, of course, has rejected rumors saying that they are just friends. Months before this, she was linked to a Chinese hotelier, as well.
Sponsored link
The 5 feet 5 inch tall Tripathi is currently single and happy. However, being a hard-core romantic, she is waiting for the right man to fall in love with and get married to. Her parents wanted to see her married and had started looking for grooms, but have now decided to wait and let Divyanka decide on her wedding as and when she feels that the time is right.  She expects her husband to be understanding and broad-minded.
Divyanka Tripathi – Pictures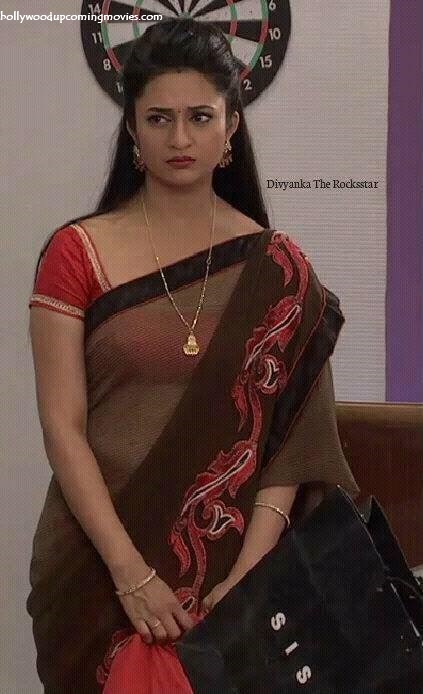 Sponsored link