Zaira Wasim is an Indian film child actor who made her acting debut in 2016 with the Aamir Khan starring sports drama 'Dangal.' The film went to become the highest-grossing Indian movie of all time. In Dangal, Zaira played the childhood role of Geeta Phogat.
Sponsored link
Her performance was accolade by both critics and the audience and she subsequently won the National Film Award for Best Supporting Actress.  Zaira also won the 'Best Child Artist' Big Zee Entertainment Award for her role in Dangal.
Early life and education
Zaira was born on 23rd October 2000, to Zahid and Zarqa Wasim, in Srinagar. He mother works as a teacher while her father is an executive manager at the Jammu & Kashmir Bank. She has a brother named Zohraiz Wasim.
Zaira attended St. Paul's International Academy which is under the Jammu and Kashmir State Board of School Education and finished basic school academics in 2017.
Zaira Khan – Childhood Picture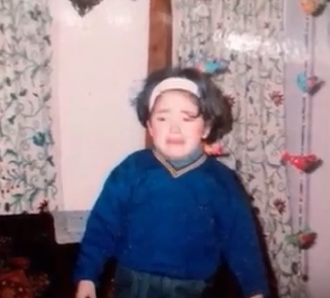 Zaira Khan – Mother, Father, Brother (Pics)
Career
Zaira's parents did not want her to act in the Indian film industry, but they were convinced otherwise by her aunt and the principal of her school.
Sponsored link
Before acting in movies, Zaira was featured in 2 nationally televised commercials. One was an ad for Nokia Lumia that was shot in Almora town of Uttarakhand, while the second ad was for Tata Sky. The latter was shot in Gulmarg region of Kashmir.
After the super success of Dangal, Zaira signed on to play the lead role of Insiya in the film Secret Superstar. Her character is of a young oppressed girl who wants to become a singer. The musical drama is directed by Advait Chandan and produced by Aamir Khan and Kiran Rao. Other lead actors in the movie include Aamir Khan, and Meher Vij. The movie had a Diwali release on 19th October 2017. It was well received by critics.
Controversies
Trolls on the internet went after the moral character of Zaira after publicity photos of her with trimmed hair were released. She also got trolled and criticized after photos of her meeting with Mehbooba Mufti, the Chief Minister of Jammu & Kashmir, surfaced. The CM called Zaira a 'Kashmiri role model.' Many celebrities from Bollywood came out in support of Zaira after she was criticized and they denounced the trolls.
During this period Vijay Goel, the sports minister of India, tweeted 'Our daughters are breaking out of their cages and moving forward' along with a picture of him standing in front of a painting with 2 women, one in a cage and another wearing a hijab. Zaira replied to the tweet and stated that the story in the painting was not relevant to her. She also tweeted that her belief was 'Women in hijab are beautiful and free.' The minister replied and stated that his tweet was misinterpreted by her and that he liked her work.
Zaira Khan – Pictures
Sponsored link